Much has been said about how long should your blog post be.
According to serpIQ, a web page with more than 2,000 words has better chances of ranking on the first page of Google search results.
From an SEO standpoint, the more words in your blog post, the more times you may mention your target keyword, which is one of the many factors that determine the search ranking of your pages.
Apparently, longer means better regarding blog post length, right?
WRONG.
On another study conducted by the Norman Nielsen Group, your readers do not read your content.
Instead, they scan your article and pick out phrases and words to read and process.
In fact, you can even say that shorter posts are even better than long ones.
Consider this latest post from Seth Godin's blog.
Of course, comparing yourself to a marketing maven is not fair. Despite his authority, you cannot deny that short posts have its place in your blog.
Think about it – when was the last time you read a 2,000-word content word for word without having to stop and do something else? Chances are, your short attention span would prefer reading a short article that packs a punch like Seth's.
But the question still begs to be answered:
How long should your blog post be?
My answer to this question may offend some.
My answer is not borne out of spite or ill will towards my readers. It is simply a cold, hard fact that you need to understand when approaching how you write for your blog.
My answer is in this video:
https://www.youtube.com/watch?v=Fw_CJDIz6h8
In other words: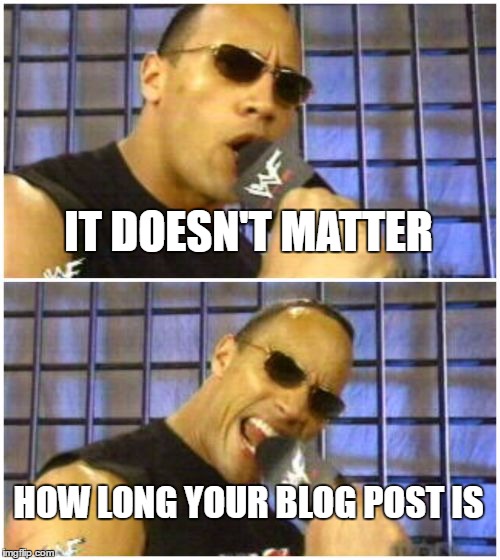 How Long Should Your Blog Post Be? IT DOESN'T MATTER HOW LONG IT IS!
Click To Tweet
So what is important then?
While blog post length does not matter, what matters is your intention for writing your post.
Instead of asking yourself how long your blog post should be, you should answer this question yourself?
Why am I writing this blog post?
Are you writing your blog post because:
You want to sell something?
You want to engage with your audience?
You want to drive more subscribers to your mailing list?
You want to grow your social media followers?
You want them to download your freemium product (e-book, whitepaper, etc.)?
If so, instead of focusing on word count, why don't you concentrate on writing your post in an attempt to meet your goal instead?
If you can write short posts that pack a punch, then that should be enough
If you need to write long posts to explain your point, then more power to you.
It would help if you can make your posts longer so you can increase your chances of ranking on search results. At the same time, it would be nice to have posts like Seth Godin's that are short but gather hundreds of social shares.
The point is, prioritize what you want and have to say, regardless of how many or few words it takes keeping your goal in mind.
Also, you want to identify the process on how you plan to achieve your goal for your blog post.
Below are examples and suggestions on what you should do to reach your expected goal:
Make a sale – You can review your product and explain its pros and cons. By being honest about your product, you can bring trust to your audience so they can make an informed decision.
Engage with your audience – Ask questions at the end of the post and encourage them to participate in the discussion. Make them feel comfortable in expressing their ideas so you can enjoy a productive dialogue with your readers.
Get more sign-ups to your mailing list – Ask people to subscribe to your email list if they want to receive your latest blog posts. If they love the post they read from you, then there is an excellent chance that they will sign up.
Grow your social media followers – For this purpose, I use Social Locker to increase my social shares and followers. I "lock" a particular part of the content using this WordPress plugin (this is what I did for this section of the post). For readers to unlock this part, users should either share the post or follow me on social media.
Get them to download your freemium offer – Write about a chapter on your ebook or whitepaper. If people want to know more about the chapter, ask them to download your freemium offer at the end of the post.
Summary
When writing, you should never worry about how long should your blog post be. The only thing that should matter is how you can achieve the goal you have set for writing your post. Hopefully, the information and suggestions below should help you make better posts for your blog audience, regardless of word count.
What's you take on blog post length? Do you agree/disagree with my thoughts about how long should you blog post be? What other things that bloggers should concern themselves with aside from blog post length and their goal for writing one? Share your thoughts by commenting below!