The work of a freelance writer is much more than the writing itself.
Aside from stringing together a few sentences and coming up with meaningful content, you also need to find a way on how to get more views on your blog.
The more readers you attract, the more chances someone out there will hire you! Believe me, I know!
As a result, you need to get to the whole business side of blogging as a freelance writer.
In respect:
You need to treat your readers as customers.
By approaching it this way, you can turn fairweather visitors into life-long followers of your blog, if not real customers!
Let's take a look at some of the ways on how to grow traffic to your website can prove to be  beneficial for your writing career.
1. Licit responsibilities
For starters, think of the implications of having your blog readers be your customers.
Let's say that they finally subscribe to your blog. You can't just send them emails that you feel like sending.
They unsubscribe from your list quicker than you can say "Wait!" Besides, it's now against the law to send them anything else than what you promised them!
The enforcement of the General Data Protection Regulation (GDPR) was in May of this year.  It laid down the hammer not only on email marketing but also on data collection in general.
As a rule, you need permission from visitors to collect information from their end. You cannot count people as a visitor of your blog anymore. You need them to accept the terms of your blog and how you gather information. If they don't accept, they will leave your site.
Crazy, I know. But it's an important bill to safeguard individually identifiable information (PII) of users, among different reasons.
Therefore, you will need to make sure that you follow all regulatory compliance and data protection laws that might be relevant.
You should do your research here and make sure that you abide by the law. Very often those laws are in place to protect both the customer and yourself, and so are likely to be important on the whole.
As long as you pay attention to your licit responsibilities to your customers/readers, you will be able to expect them to be more loyal in the future.
2. Give them what they want
As a business person, your goal is not only to boost sales. It's to also keep your customers happy. If done proficiently, you can turn them into repeat customers.
In case you didn't know:
The method of making customers happy for growing sales is much more effective and cheaper compared to acquiring new customers!
The same principle applies when treating your blog readers.
The happier they are with your blog, the more engaged they will be!
If you want to get more views on your blog as a freelance writer, you need to think about what your customers want. In fact, this is something you should be thinking even before setting up your blog.
Publishing content your readers want to use will likely grow traffic to your website!
If you struggle to understand what it is that you think they will want, then you might need to do research more about your market.
I use Serpstat* for this.
As an SEO tool, Serpstat helps you research your competitors and use the data you earth to develop a strategy for your blog.
If you're a freelance writer, you need to identify your competitors (except me, of course 🙂 )
Using Serpstat, type your niche or keyword on the search bar and click "Search."
You will see information about the niche or keyword based on competition, search volume, and more.
However, your goal is to find competitors in your niche.
You can do that by going to the left sidebar and click Keyword Research > SEO Research > Competitors.
You will then see the different sites who are ranking on Google for the keyword "freelance writing" and its related terms.
The next step is to find out the posts that your competitors have written and are ranking for on search engines. The goal is to create content by optimizing for the keywords they're ranking for.
Since your competitors are ranking for the keywords, it means that they are proven commodity. If it works for them, it should work on your site too!
Click on the site you want to research to see the keywords it is ranking for.
Below is the screenshot of the keyword ranking of freelancewriting.com:
You will see here the list of keywords that you can optimize on your blog. Choose the ones that are closely related to your blog.
At the same time, choose keywords with a high search volume. Optimizing your content for a highly searched keyword increases your chances of getting found by your target audience on Google. That is how you can get more views on your blog. Anything that's over 1,000 searches every month is impracticable.
However, you also need to consider how competitive a keyword is. The more competitive it is, the harder it is for you to rank your blog post for it on Google and Bing.
Keywords with high search volume have frequently high competition. But it's a case-to-case basis. The only way to find out is to search it yourself using Serpstat.
To find how competitive a keyword is, click on the keyword from the list.
Here's the data for "character development questions:"
It has a search volume of 1,000 and a keyword difficulty of 3.15 (out of 100).
It's the perfect keyword to optimize for your blog!
Do this on all your competitors to come up with a list of keywords related to freelance writing you can optimize on your blog.
To help you develop an effective blogging strategy, use Serpstat! Click here* and sign up for an account!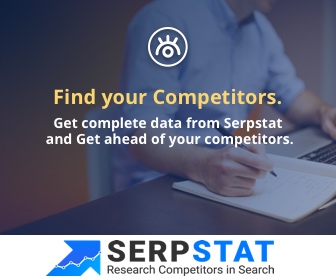 3. Be aware of the exchange
The purpose of blogging as a freelance writer or a business person, in general, is to facilitate the exchange of ideas between you and your readers.
It helps from an artistic point of view to consider that what is happening on the page is really a meeting place of you and the reader.
Keep in mind:
You're writing for an audience, not for yourself!
As long as you are sufficiently aware of that exchange, you will produce articles they enjoy and even spend money on!
By thinking of it this way, it's likely that your writing will take on a whole new level which you might not have been able to attain before. This is definitely something that you should consider if you want to keep your customers happy and keep producing the best work you can.
4. Make yourself accessible
Focus on marketing your personal writing business in a way which is likely to be as accomplished as possible.
After all, how will you grow traffic to your website if you don't scream it to the entire world!
By focusing on marketing to readers, you will be able to expect them to keep coming back for more, and hopefully spread the word about your work. This is something that a lot of writers dream of, and you should make sure that you are doing this as best as you can from the start of your career.
We've already touched upon content optimization using Serpstat.
Research your competitors and find out their best keywords. Use the findings to develop a blogging calendar and create a steady stream of content.

More importantly, optimizing your content allows you to rank on search engines. This is a big help on how to generate blog traffic passively!
Another way of marketing to your audience is to publish your content on different channels.
Apart from social media, you must republish your post on places where you can build a following.
Examples of such are Medium, LinkedIn, WordPress.com, Blogger, and more!
Of course, manually posting your content on these channels is a pain in the posterior.
However, there's a tool that lets you publish your content on these channels and on social media with a few clicks of a button!
That tool, my friend, is StoryChief*.
Instead of telling you how it works, I'll just show it to you in a form of a video.
Aside from learning how the tool works, you'll also hear my voice! As if that's not enough to convince you to watch it 🙂
Without further ado, the video:
You can also read my review of Story Chief here.
5. Convert them
Now, you got your visitors hook, line, and sinker.
It's time for you now to offer your services to them.
But how?
Since their entry point is from your blog, you need to create calls to action that will prompt them to check out your services.
In my experience, pop-up forms work like a charm!
They help attract the attention of readers by using different colors and animations on the form.
More importantly, you can measure the results of the forms and see which ones convert the most.
A pop-up tool I highly recommend is ConvertPlus*.
It lets you create different pop-up forms for your blog. You can create one that lets people sign up to your list or click a button. Also, you can make the form appear on the screen or slide up from the corner.
For increased conversions, you can set the forms to appear when readers are about to leave your site or if their mouse cursor moves out from the window.
For this purpose, however, you can access the form by clicking here
.
Or you can check it out below:
I'll stop right here for now
What?! Just five tips?
Not cool, bro!
I know, I know. There are more ways on how to get more views on your blog and convert them into clients than the ones listed above.
However, and I promise you this:
I will add more soon!
If you want to be alerted when the post will be updated, sign up to my mailing list below:
In the meantime, here's what you can do:
Share with me your ideas on how to generate blog traffic by commenting below.
As mentioned before, take the opportunity of using your post as places where readers and authors converge to share their ideas.
On that note, I hope to see your comments below!